XPocolypse
The end of an era has come as Microsoft cease to support Windows XP. The "XPocolypse" (as it's been dubbed) marks the end for the 13-year-old operating system, however with support for Internet Explorer 8 also stopping, it seems that it's out with the old for Microsoft. Whilst some big institutions still struggle on with older operating systems, given all the recent hacking, security and privacy issues hitting the news over recent months (see below!), it really is time for everyone to upgrade to something that's still supported. This is doubly true with regard to internet browsers – so if you're still using IE 8 (or older!) get yourself updated – as not only are you running a very insecure browser, but you'll start to find many big websites just don't work properly on this outdated software. IE 11 is better in every single way, but browsers such as Chrome and Firefox still lead the pack – and keep themselves updated so you don't have to worry about being out of date!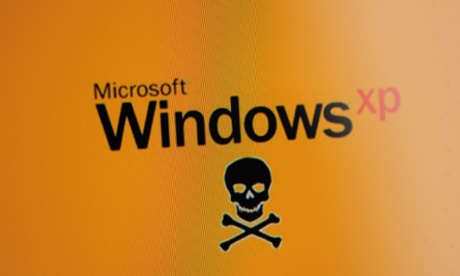 The internet of bleeding hearts
Don't worry, we've not come over all melodramatic! At the start of the month the IT world was woken up by an emergency security advisory from the OpenSSL project warning about a very nasty open bug called "Heartbleed". And it is as bad as it sounds, as it masquerades as the server and lets attackers listen in on data. Many companies have since taken the necessary measures.
Read more on The Verge
Natural Twitter
This one is for all you nature lovers,
Piip-Show
is a three month long broadcast by Norwegian broadcasting network NRK.no. The project is a collaboration between photographer Magne Klann, model maker Lars Aurtrade, outdoor aficionados UT.no and NRK.no. The project invites you to watch various wild birds drop into their (very adorable) coffee shop and their lounge.
Dot London
A brand new domain just for London: .london went on sale April 29th. Are you thinking of safeguarding your URL? We're certainly considering getting a 'www.tothepoint.london' name, if only to protect our brand in London. And, as the official website suggests, getting one allows you to associate your name with the 'greatest city on earth'! Purchasing a .london domain is pretty easy and costs are very reasonable. You can set one up to use on a brand new website or just have it direct to an existing one. If you need any help or advice in purchasing a domain or creating a new website,
just let us know
!
The "hole" of London
And talking of the 'greatest city on earth'… the beloved tube map has a new cover, a very holey one! Designed by artist Rachel Whiteread, who won a Turner Prize for her work 'House' in 1993. The cover is an illusion though and is actually printed.
Battle of the TV Gizmos
We featured the Google Chromecast on our News roundup a little while ago, but for those of you who need a refresher it's a small device (a doobrey if you will) that plugs into your HDMI port and allows you to stream content from a smartphone or tablet onto your TV. However, since launching in the UK it seems a contender is hot on its heels, with Amazon recently launching Fire TV in the US. With no dates yet for its UK release it is set to be a slightly pricier option, but with claims that it's three times faster will the extra buck be worth it?
Read more on The Inquirer
Matisse en masse
The
Tate Modern
is currently hosting, what critics are hailing as, one of the largest collections of Matisse's "cut-out" artworks ever assembled. There is also an accompanying film if you fancy something a bit more animated. It's on until September so there's plenty of time to catch it; make sure you don't miss out!
A little pick me up
The 2014
Pick Me Up
festival at Somerset House is up and running, it features loads of fun (and sometimes quirky) workshops and plenty of artwork to buy from various illustrators and designers from all over the place!